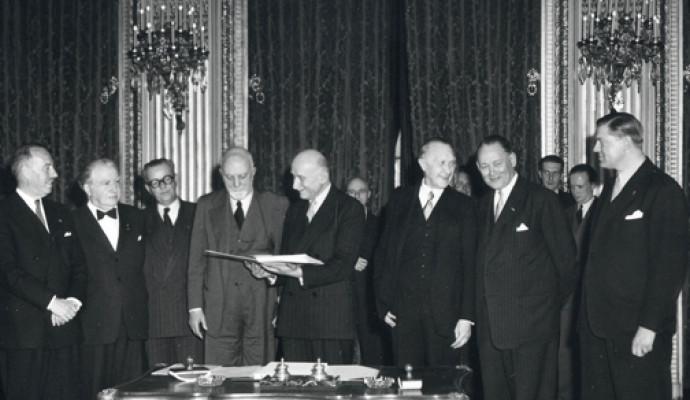 Programme 
To mark the 70th anniversary of the signing of the Treaty of Paris establishing the European Coal and Steel Community (ECSC), staff at the European Parliament's Jean Monnet House, with the help of the Europe Direct Information Centre in Paris, are putting on a series of conferences on the themes of Europe and energy, the pooling of coal and steel in the 1950s and the Monnet method in the era of the Green Deal.
The first conference is entitled 'The Treaty of Paris: the first stirrings of European unity'.
The ECSC Treaty, also known as the Paris Treaty, was in force for 50 years. It was signed on 18 April 1951 by West Germany, Belgium, France, Italy, Luxembourg and the Netherlands.
The Paris Treaty is seen as one of the founding acts of the European Union, unifying Western Europe during the Cold War and laying the foundations for a European democracy.
The historic treaty will be the subject of a panel discussion on 27 May with Klaus Welle, Secretary-General of the European Parliament; Dr Sylvain Schirmann, a historian and researcher in modern history and international relations specialist; Marie-Thérèse Bitsch, a historian specialising in European integration; and Clémence Pelegrin, an expert in energy, aeronautics, defence and rail infrastructure at Le Grand Continent, a geopolitics journal.
Audience

Adults

Families

Schools

Young adults

Event category

Our events

Event type

Conferences
Practical information
When

Languages

English, French
Audience

Adults

Families

Schools

Young adults

Event category

Our events

Event type

Special Events
Audience

Adults

Schools

Young adults

Event category

Partner

Event type

Conferences
Audience

Adults

Families

Schools

Young adults

Event category

Partner

Event type

Special Events