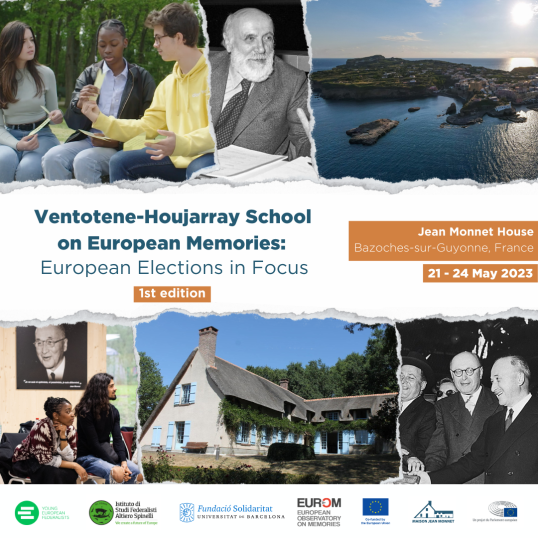 The Jean Monnet House, the Istituto di Studi Federalisti Altiero Spinelli and EUROM - The European Observatory on Memories - in collaboration with JEF Europe organise the first edition of the Ventotene-Houjarray School on European Memories (21-24 May 2023) at the Jean Monnet House (Bazoches-sur-Guyonne, France).
This 3-day seminar on European memory welcome thirty young people from all over Europe.
The Jean Monnet House wishes to raise awareness among young people about European memory and the history of democracy.
Through the organisation of conferences, workshops, debates and practical activities, participants will become familiar with the latest research on memory studies and will be able to contribute to raising awareness of Europe's past as a key to making informed choices for the present and future.
This year, the VHSEM will focus on the European elections since 1979, in view of the next elections in 2024.
PROGRAMME

Ventotene-Houjarray School on European Memories
Jean Monnet House, Bazoches-sur-Guyonne (France)
21-24 May 2023
Sunday May 21
6.30 pm Welcome: Martí Grau (Curator & Head of Service, Jean Monnet House, European Parliament) – Mario Leone (Director, Istituto Spinelli) – Jordi Guixé (Director, EUROM - The European Observatory on Memories [online] and Fernanda Zanuzzi (Press and Communications' Officer - EUROM)
8.30pm After-dinner discussion with Mario Leone (Director, Istituto Spinelli). Publication presented "The Formation of the European Party System" - (istitutospinelli.it)
Monday May 22
9.15am Welcome by Ciril Stokelj, Director for Visitors, Directorate-General for Communication, European Parliament [online]
9.30am Round table: EP Contribution to the European project, as seen by the actors inside the Parliament and beyond (1979-2019) [online]
By Prof. Alfredo De Feo (Former official at EP Historical Archives) and Prof. Michael Shackleton (Emeritus Professor, Maastricht University)
Q&A session
11.30am Presentation of the workshops and constitution of workshop groups: Debora Righetti (JMH, European Parliament) - Michele Fiorillo (Scuola Normale Superiore) - Fernanda Zanuzzi (EUROM)
Noon
Group I (15 people): 30 minutes Visit to the Jean Monnet House by Martí Grau (Curator at the JMH)
Group II (15 people): 30 minutes Workshop
Inversion of groups
2.30pm Lecture: The Language(s) of Politics: Multilingual Policy-Making in the European Union[online]
By Prof. Nils Ringe (University of Wisconsin-Madison)
Q&A session
4.30pm Communication and raising awareness among citizens. European democracy in action: European Elections 2024: Barbara Quilez (EE24 Task force DGCOMM EP) [online] 
6pm Plenary session with contributions from the workshops led by Debora Righetti, Michele Fiorillo and Fernanda Zanuzzi 
9pm After-dinner discussion with Philippe Perchoc (European Parliamentary Research Service), Oriol Lopez Badell (Coordinator, EUROM- The European Observatory on Memories) and  Antonio Argenziano (President, JEF Europe)
Tuesday May 23
9.30am Presentation of My House of European History, a tool to preserve European memories Javier Martin Lopez, Iveta Madarova, Krzysztof Kliczka (DG TRAD European Parliament) [online]
Q&A session & presentation of your objects stories: Workshops reconvene
11.30am Round table: European elections & Memory of the Iron Curtain
With Philippe Perchoc (European Parliamentary Research Service), Antonio Argenziano (President, JEF Europe), Juuso Järviniemi (Vice-President, JEF Europe [online]).
Moderator: Marti Grau (JMH EP)
Q&A session
2.30pm Walk on Jean Monnet's footsteps, led by Debora Righetti (JMH EP)
4pm Workshops on the JMH collection objects
5pm Lecture: Memory and Democratic Participation in a World Context
By Prof. Nobuya Hashimoto (Kwansei University, Japan)
Debate moderated by: Marti Grau (JMH)
Wednesday May 24
9.30am Workshops debriefing in plenary session and publication on SoMe or/and on MyHEH: Debora Righetti (JMH, European Parliament) - Michele Fiorillo (Scuola Normale Superiore) - Fernanda Zanuzzi (EUROM)
11.30am Conclusions and closing remarks: Oriol Lopez Badell (EUROM) – Antonio Argenziano (JEF Europe) – Maria Gabriella Taboga (Istituto Spinelli) – Martí Grau (JMH EP)
Audience

Young adults

Event category

Our events

Event type

Conferences